The Real Dan Minard returns to Wiltsie's Listening Room in Clarkston, Saturday, SEPT. 25TH at 8pm w/ BILL ARNOLD

Wiltsie's Listening Room
21 N Main St, Clarkston, MI 48346-1515, United States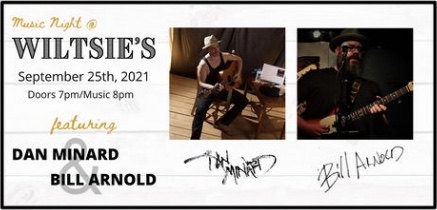 Public

 

Anyone on or off Facebook
Music Night at Wiltsie's
We invite you to join us for an incredible evening of music in our cozy and intimate setting. Doors open at 7pm. At 8pm our first act, Bill Arnold, takes the Wiltsie's stage and will perform for 1 hour. A 30 minute intermission follows after which our second act, Dan Minard, will begin his 1 hour long set at 930pm.
You are invited to bring your own food and beverage to the event as none is provided by the venue. If you'd like to order some food and have it waiting for you, we have a special menu from Essence On Main – please email us at wiltsieslounge@gmail.com for more details.
We'd ask that you are respectful of our performers – this is an intimate setting where you will be extremely close to the musicians, talking, phone calls and other noise is distracting to both our musicians and other guests. We ask that you arrive on time and prepared to listen. These nights are about the music, the lyrics, and the talent of our musicians.
Seating is first come first serve – we have a variety of couches, chairs, stools, and standing room. We recommend arriving early if you would like one of the closer seats.
The September 25th program is as follows:
7pm: Doors Open – we invite you to bring some food, snacks, and beverages and arrive early to get a prime seat.
Bill Arnold's songs are thoughtful songs steeped in the Midwest narrative and they truly come to life, collectively defying the label of genre, yet individually providing a comfortable ride for the listener.
The Rustbelt often conjures imagery of hardworking folk from all walks of life, people who toil relentlessly, but humbly and merrily: on their craft, their work, their art, their leisure, and their relationships; people who are always learning and growing, excited to share their passions with others, and seeking enrichment in every interaction. Designed with intent and crafted with care, Bill's songs are the manifestation of these traits, delivering Michigan-made, Roots Rock music infused with riveting harmonies, lush guitars, and powerful rhythms.
Be sure to check out Bill's music and his band One Ton Trolley on social media and music streaming platforms!
9pm – 9:30pm: Intermission – take a moment to get to know some new friends, introduce yourself to our musicians, or just enjoy the cozy ambiance!
9:30pm: Final Act – Dan Minard (
www.therealdanminard.com
, @therealdanminard on social media)
Born in Liverpool, England and raised in Detroit,Dan Minard grew up being influenced by bands from the British Invasion & Motown, respectively.His mom liked artists such as Cleo Laine & Billy Joel, while his dad listened to Johnny Cash & Mercer. He learned the craft of singing & songwriting with fellow artists David Blair, Sean Fitzgerald, Audra Kubat, Sista Otis,Dale Wilson, Mike Anton, and Alison Lewis. He learned that even though they played acoustic instruments, that playing songs from different genres gave them a wider respect for the arts & a diverse audience. He moved to Nashville & just recently came back to Detroit, with the encouragement of his friend, Emily Rose.
Please note that we are limiting capacity to enhance the show for our guests and musicians- priority for entrance is given to those who pre-purchase their tickets here on Eventbrite. In the event that we do not sell out, a limited number of tickets will be available at the door (cash only). Seating is first come first serve, half of our capacity is standing room only.
About the venue: 21 N Main Street, Clarkston, MI, 48346 is a coworking space by day and transformed into Wiltsie's Listening Room during our special events. This historic building, inside of a registered national historic district, was built in the 1870s as a carpenter shop by our name sake – W.R. Vliet aka "Wiltsie". Inside, you'll enjoy a cozy, dim, rustic setting as you listen to these incredible artists.
Our events are very casual in nature – it's about coming together to celebrate the incredible talent of the musicians who are dedicating their time to us. Strangers sit on couches together, it's not uncommon for people to share seats to get closer to the action, and you'll leave having met new friends who share your passion for independent music.
If you are currently uncomfortable being indoors, being around unmasked individuals, or being around strangers, we encourage you to wait until a later show date.
A few other things to note:
-given the historic nature of our building, the building does not have stair-free entry – there are several steps to navigate to enter and to use the restroom.
-seating is first come first served, there is no saving seats.
-musicians are having an incredibly difficult time these days, we charge a very modest entry fee and encourage you to tip additionally if you are able.
-please be respectful of our neighbors by parking only in designated parking spots
– the city parking lot just a short walk from our venue is currently offering free parking.
-we encourage you to patronize our wonderful local restaurants before the show or to order carry out and enjoy your meal and beverages at the venue. The Union, Woodshop, Honcho, Rudy's and The Fed are all just one short block away.
-Essence on Main will happily prepare a meal and deliver it to our location prior to the show, see menu in our photos.
If you have any questions, please don't
hesitate to reach out at wiltsieslounge@gmail.com